Take a Look Inside Our Modern Dental Clinic — Tour the Clinic Now
Using advanced cosmetic dental treatments and materials, the top-rated Tijuana dental clinic, I love My Dentist, can make a real difference. The skill, experience, and commitment of our practice — using a unique combination of science and artistry — can literally redesign your smile. Even a subtle change in your smile helps you to project an image of self-confidence and high personal esteem.
At the leading dental clinic in Mexico, our team is prepared to answer all questions pertaining to your dental health and appearance. Oral hygiene, specifically brushing and flossing, are a vital part of your dental health. Led by expert dental professional, Dr. Guevara, we can also answer your questions about the different dental specialties and explain the meaning of dental terms.
Why Choose I Love My Dentist
It's simple. We love teeth and we want the opportunity to look after your Oral Health and provide you with the most suitable and highest quality dental treatment possible. Since 1991, we have gained the respect and trust of thousands of patients. From a standard cleaning, through fillings, whitenings and veneers right through to oral surgery and orthodontics — we got you covered.
Our aim is to offer the type of dentistry that our patients want. With flexible timing, transparent pricing, full explanation of treatments, excellent customer care and after-care service – our goal is to exceed your expectations at every step of your treatment. We listen to you and your needs, and we are constantly reviewing our processes to ensure that we are at the cutting edge of Dentistry.
General & Cosmetic Dentistry can give you a smile you're happy to show off. Modern cosmetic dentistry techniques make it easier than ever for you to have a bright, even smile. Dr. Guevara practices exclusively for the medical tourism from around the world that travel to Mexico to receive high quality dental treatments. He continues to take advanced training in various aspects of General and Cosmetic dentistry which includes:
teeth whitening
inlays and onlays
dental crowns
dental bonding
porcelain veneers
Your First Visit to Tijuana
Your initial appointment for dental treatment in Tijuana usually will consist of an examination and review of your treatment options. Usually, treatment can be done or started the same day as the consultation. However, a complex medical history or treatment plan will require an evaluation and a second appointment to provide treatment on another day.
Please assist us by providing the following information at the time of your consultation:
Any x-rays taken by a previous dentist, if applicable.
A list of medications you are presently taking.
If you have dental insurance, bring the necessary completed forms. This will save time and allow us to help you process any claims.
IMPORTANT: All patients under the age of 18 must be accompanied by a parent or guardian.
Please alert the office if you have a medical condition that may be of concern prior to treatment (i.e., diabetes, high blood pressure, artificial heart valves and joints, rheumatic fever, etc.) or if you are currently taking any medication (i.e., heart medications, aspirin, anticoagulant therapy, etc.).
X-Rays
If your dentist or physician has taken x-rays, you may request that they forward them to our office. If there is not enough time, please pick them up and bring them to our office. If additional x-rays are necessary, they can be taken at our facility.
Advanced Technology — Modern Dentistry
Precision Dentistry
When you seek care at our office, you are assured that I Love My Dentist utilizes the latest in technology to enhance the quality and fit for your dental care. Our practice uses high power microscopes to enhance the precision of patient care. Dentistry is micro-surgery. Using microscope that is similar to the one an ophthalmologist uses enables us to create dental restorations with incredibly precise fit and finish. You just can't fulfill that level of care with the naked eye. In addition to allowing precise, close-up work, the microscope directs a beam of light directly on the teeth, minimizing glare for you. Many dentists use air-driven "hand-pieces" (the dental term for "drills"). While acceptable for many procedures, these "whiney sounding" air-powered hand pieces all have a degree of non-concentricity; they do not rotate perfectly smoothly. For the most precise aspects of restorative procedures, we use electric hand-pieces. This results in extraordinarily precise interfaces between your tooth and your new restoration (crown, veneer, or filling). This will bring more comfort to you as well. With a more precise tool, there is less vibration and less noise.
Digital Imaging
Radiographs allow the team at I Love My Dentist to see everything we cannot see with our own eyes. Radiographs enable us to detect cavities in between your teeth, determine bone level, and analyze the health of your bone. We can also examine the roots and nerves of teeth, diagnose lesions such as cysts or tumors, as well as assess damage when trauma occurs. Dental radiographs are invaluable aids in diagnosing, treating, and maintaining dental health. Exposure time for dental radiographs is extremely minimal. Our top-rated dental surgeons utilize Digital Imaging Technologies within the office.With digital imaging, exposure time is about 50 percent less when compared to traditional radiographs. Digital imaging can also help us retrieve valuable diagnostic information. We may be able to see cavities better. Digital imaging allows us to store patient images, and enables us to quickly and easily transfer them to specialists or insurance companies.
Digital X-Rays
Digital X-rays offer more precision since we view the image on a computer monitor, instead of holding up a 35mm film up to the light. Digital X-rays results in 1/6th the radiation exposure to you.
Laser Dentistry
For patients who do not look forward to needles, drilling, or numbness, Laser Dentistry in Tijuana may be the right choice. Laser dentistry is one of dentistry's latest advances. The laser delivers energy in the form of light. Depending on the intended result, this energy travels at different wavelengths and is absorbed by a "target." In dentistry, these targets can be enamel, decay, gum tissue, or whitening enhancers. Each one absorbs a different wavelength of light while reflecting others. Laser dentistry can be used for both tooth and soft tissue related procedures. Oftentimes no local anesthesia is required. Unlike with the dental drill, with laser dentistry there is no heat or vibration, making the procedure quite comfortable for most patients. For soft tissue (surgical) procedures it eliminates the need for suturing and healing is much faster. Lasers can be used to diagnose cavities. They can find hidden decay in teeth in early stages, and in some cases the decay can be reversed through hygiene and fluoride treatment and may never need filling.
Areas of dental care that benefit from laser technology:
Cavity diagnosis and removal
Curing, or hardening, bonding materials
Whitening teeth
Periodontal, or gum related, care
Pediatric procedures
Apthous Ulcer treatment (canker sore)
Frenectomy (tongue-tie release) without anesthesia or sutures
Root canals and apicoectomies
Crown lengthening, gingivectomy and other gum corrections
Dental lasers have been shown to be safe and effective for treating both children and adults.
Intraoral Camera
Many patients, especially younger patients, are very familiar with the latest technology and are comfortable with the high tech practice. Computers and TV screens are their primary method of information processing. As the most prominent dental center in Tijuana, we utilize intraoral camera technology that helps enhance your understanding of your diagnosis. An intraoral camera is a very small camera – in some cases, just a few millimeters long. An intraoral camera allows our practice to view clear, precise images of your mouth, teeth and gums, in order for us to accurately make a diagnosis. With clear, defined, enlarged images, you see details that may be missed by standard mirror examinations. This can mean faster diagnosis with less chair-time for you! Intra oral cameras also enable our practice to save your images in our office computer to provide a permanent record of treatments. These images can be printed for you, other specialists, and your lab or insurance companies.
Meet Dr. Ricardo J Guevara, DDS
Expert dental surgeon, Dr. Ricardo J. Guevara, practices a full scope of general and cosmetic dentistry with expertise ranging from porcelain veneers to dental implants, crowns, and bridges. He practices exclusively for the medical tourism from around the world that travel to Mexico to receive high quality dental treatment and continues to take advanced training in various aspects of General and Cosmetic dentistry.
Dr. Guevara has devoted his professional career to all aspects of Periodontics, Prosthodontics, Implant and General Dentistry. While using his training to treat patients with all types of dental needs, he has particular interest in the integration of periodontal, prosthetic and implant dentistry as they relate to the restoration of a single tooth or an entire dentition.
Contact I Love My Dentist Clinic, get a free quote
Reviews
He is an excellent dentist ..very professional. His clinic is very clean and well equipped. . I went with my husband and kids and we are all pleased. What I really appreciate is the way he treats his patient; he maintain a good relationship and call after couple of days to make sure everything is fine.

I Love My Dentist in Tijuana surpassed my expectations. The service in my opinion is top notice & I would say is the same as some of our better Dentists in the States. In addition to the service I'm someone who enjoys waiting to be seen in the surroundings of an office that has nice interior appointments. Their office looks as if it were designed by Backen & Gillam in the States. I just had a root canal performed and was concerned about undergoing pain. The procedure was painless & believe it or not I can not wait to go back! lol A feeling I never had with any dental office.

I can't speak highly enough of Dr Guevara. I have to admit I was nervous to go to another country but it was more than worth it. Getting high quality services at a "reasonable rate" is unheard of in the Bay Area. I didn't expect such an amazing experience but I am totally going back and I am grateful that I found this office. He even picked me up at the airport!

I LOVE Dr.Ricardo Guevara and his entire staff and the office is impeccable, modern and perfect. I felt SAFE and loved and for the first time in my life, I heard a Dentist refer to the gentleman sitting in the next room as "Sir". Respect, trust. Great place to go. Highly recommend.
Staff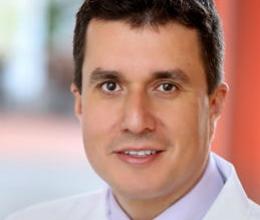 Dr. Ricardo J Guevara, DDS & Associates
General and Cosmetic Dentistry
---
Dr. Guevara and his team of dental professionals continue to take advanced training in various aspects of General and Cosmetic dentistry.